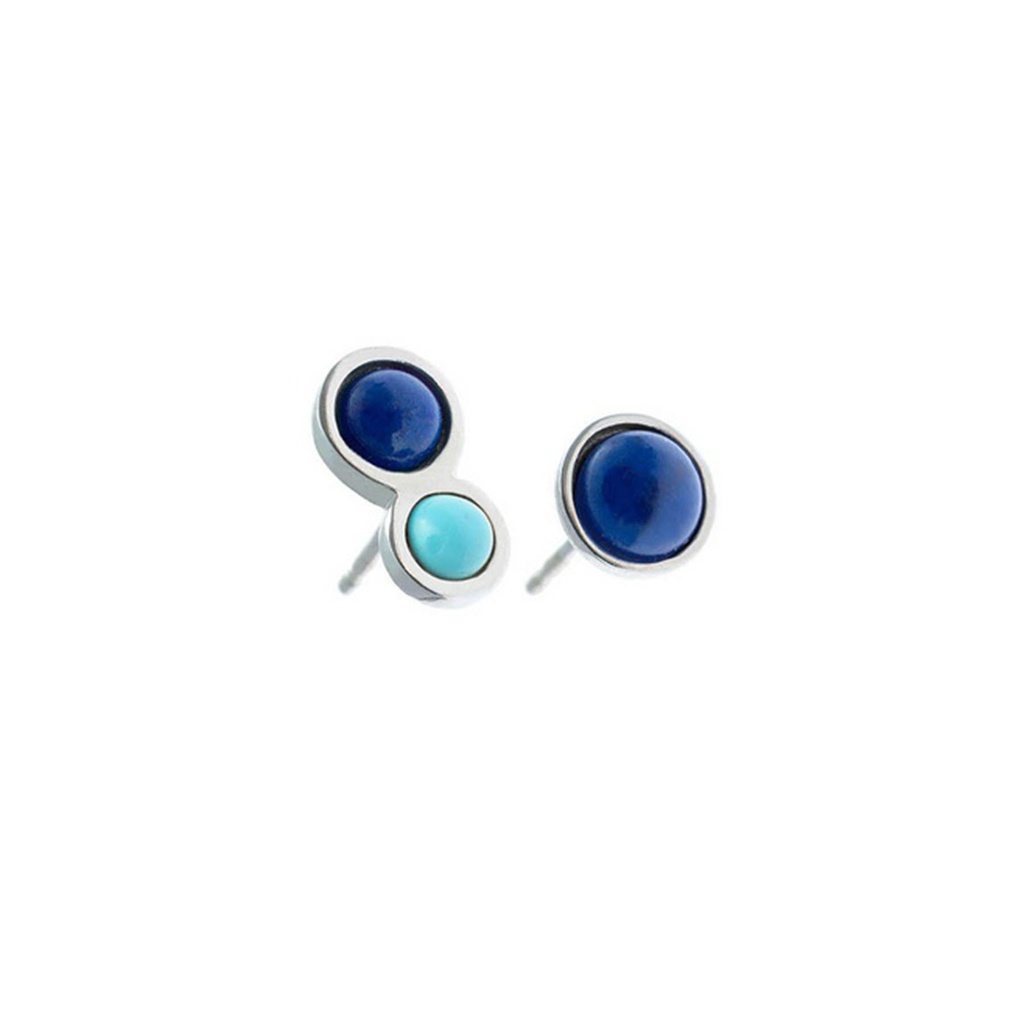 Chloe lapislazuli and turquoise asymmetrical studs
This product is no longer available.
---
Inspired by the bohemian jewelry of the 70's, the designs of this collection instill a vintage flair with a contemporary twist.

Basic with a sophisticated twist, these earrings feature an asymmetrical design that makes them fun and fresh. Wear them with other earrings of the Chloe collection for a striking effect.

Lapislazuli is very appreciated for its properties to release stress, providing a deep sense of peace and stimulating creativity. Turquoise is appreciated for its soothing properties and repelling negative energy.

DETAILS
Available in sterling silver and 18 carat gold plated silver, lapislazuli and turquoise.
Designed and handcrafted in Spain.
---
JEWELRY CARE
This jewel is an artisanal product. In order to preserve its shine, we recommend you to follow our care advices and handle it carefully. Please avoid wearing it when you wash your hands, take a shower, a bath or practise sports, in order to avoid its contact with water, soaps, detergent or alcohol, as well as avoid spraying perfume over it. You can clean your jewellery by wiping it with a soft cloth, or rinse it with water and soap, and dry it with a soft cloth. We also recommend to store it in its packaging to protect it from scratches from other jewels.
Please visit our product guide, call us or send us an email for more information. We'll be glad to help you.
PACKAGING AND SHIPMENT
Our jewels come inside a brand box with complimentary gift wrapping. If you wish, we can add a handwritten message for the person receiving it. In that case, please let us know the message in the 'Comments' box when placing the order.
Free shipping for Spain in orders over 65 € (including Ceuta and Melilla, Canary Islands and Belearic Islands). We ship our orders with the Spanish certified postal service. If you need express shipping, the coast will be 15 euros.

International shipping 15 euros with the Spanish international certified Spanish postal service.

We will let you know our delivery date in each order.